Introducing the Rural Design team
To promote leadership in our industry, we have gathered some of the best heads together who are deeply passionate about horticulture and landscape ecology. Please meet the team:
Eden Worsfold
Director / Operations Manager
Heath Worsfold
Director / BUSINESS DEVELOPMENT MANAGER
Blake Worsfold
general manager
Marilyn Wright
Administration manager
Danielle McBride
production & Procurement manager
Tess Tollemache
Administrator
Jason Dick
Tara iti manager
Christine Evans
Ecologist
Jack Warden
Senior Ecologist & Restoration manager
Lance Nepia
Nursery manager
Kirk Daly
Team leader – property maintenance
Elizabeth Fortin-Gaudreault
seed collection & Propogation manager
Amber Doggett
PLANT HUSBANDRY
Kyle Sutherland
junior ecologist
Lew Senora
DISPATCH MANAGER
Explore our areas of expertise >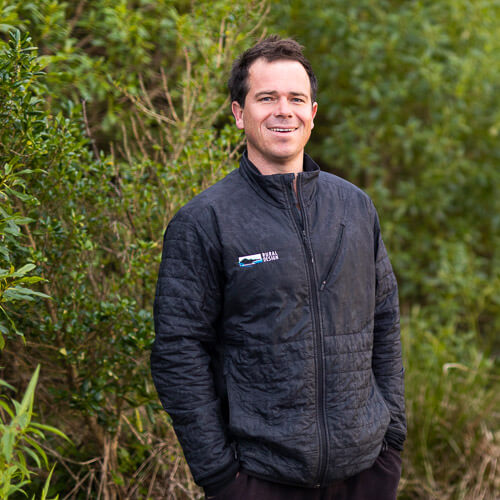 Eden Worsfold
DIRECTOR / OPERATIONS MANAGER
As Operations Manager, Eden is the backbone of Rural Design. A director since 2014, he keeps a watchful eye over the planning and execution of activities for a rapidly growing team. Described as a veteran in the field of revegetation and land restoration projects, Eden has been involved with Rural Design since he left school. Earlier if you consider the time spent on the family farm from a very young age – gaining wisdom for site preparation, plant selection, layout and design, right through to implementation, pasture management and ongoing maintenance. Along with lifelong learning at the coalface, he is working with his brothers Blake and Heath to further their business with guidance from Business Mentor Trevor Stafford.
Eden's vast understanding of restoring land, knowledge of native plant species and genuine passion for the environment, puts him in good stead to lead the operations of the business. Years of hands-on experience has given him a sharp eye for pricing jobs and running the more significant, high-value projects. He is respected by clients and colleagues alike for his honest and transparent character and sharp memory for details.
When not at the Rural Design HQ, Eden is passionate about surfing, gardening and farming.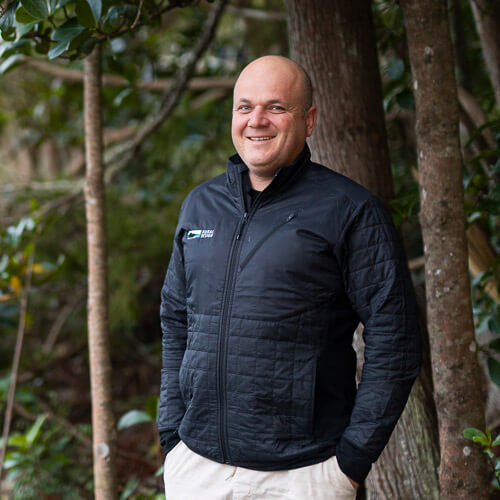 Heath Worsfold
DIRECTOR / BUSINESS DEVELOPMENT MANAGER
With a Bachelor of Resource Studies, majoring in Wildlife Ecology and Nature Conservation, Heath is passionate about social, economic and environmental sustainability. He gleaned considerable experience from a previous role at Gisborne District Council, along with three years in Town Planning and Appeals & Enforcement for the London Borough of Richmond.
Returning to New Zealand in 2007, Heath was challenged with expanding Rural Design's offering to include ecological consultancy, a wholesale plant nursery, along with environmental planning and a wide range of admin skills to grow the business.
Heath's passion for ecology began as a youngster, working alongside Bill on the family farm, along with early day wetland and riparian projects at Rural Design. Channelling his skills, he gained funding from Fish and Game NZ to plant wetlands at the back of the family farm. More recently, he managed a legacy dam-building project to secure valuable water for Rural Design well into the future. He is also a senior member of the NZ Plant Producers Incorporation (NZPPI).
Today, Heath remains a key contact point for clients. His extensive industry networks bode well for securing new business and striving for best-practice environmental outcomes for all.
When not at the desk, Heath enjoys spending time with family and friends. He is a keen fisherman, surfer, and is involved in poultry breeding.
Blake Worsfold
GENERAL MANAGER
As general manager, Blake draws on his vast experience gathered from the education sector as he leads and motivates the wider Rural Design team.
Working as a secondary teacher for seven years at St Paul's College and Head Teacher at Geita Gold International School in Tanzania for four years has given him strong leadership qualities in his role at Rural Design.
Blake has a Bachelor of Arts majoring in Geography and Anthropology and a Graduate Diploma in Secondary Teaching.
Although he returned to NZ in 2016, working with Rural Design is not a new challenge. Blake spent earlier years working alongside his father Bill, picking up the hallmarks for business success, including a growth and visionary mindset.
Blake and the team are focused on building strong client relationships, and he believes this is what gives Rural Design an edge, along with a trusted reputation in the marketplace.
Mentoring teams does not stop at the workplace for Blake – outside of work he enjoys coaching basketball for Kaipara and Northland.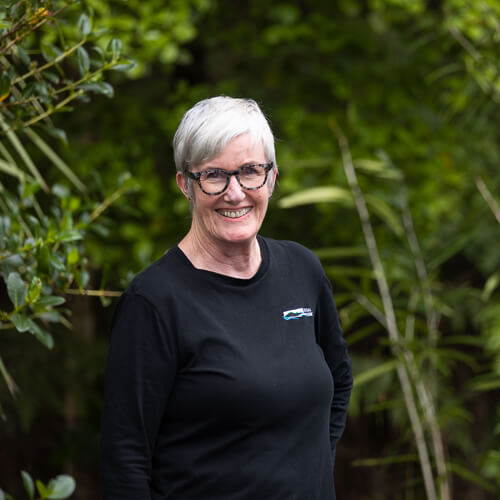 Marilyn Wright
Administration manager
Marilyn is valued for her sharp communication and integrity. The company has experienced much change and growth since she began in 2014, and she has shaped her role to add value at every turn.
Each day is dynamic, covering administration, payroll, pricing and purchasing. She is also PA to Eden, working on the ever-evolving Tara Iti project.
Before Rural Design, Marilyn worked in the wine and telecommunications industries. Her vast experience in sales and account management is proving invaluable for the Directors and wider team who respect her strengths at multi-tasking and her warm, approachable manner.
Outside of work, relaxing with friends and family is what fuels Marilyn.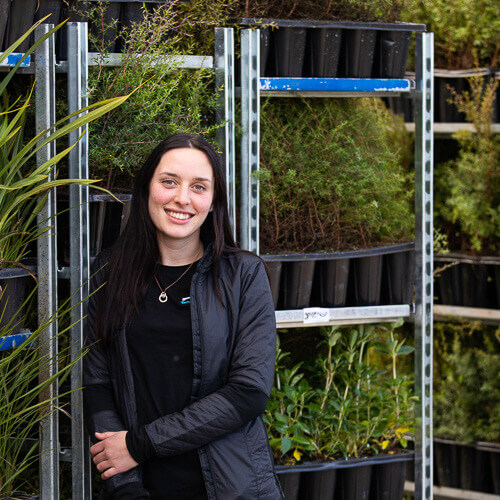 Danielle McBride
Dispatch & Procurement Manager
Danielle is passionate about the industry and is nearing the completion of her NZ Diploma in Horticulture – nursery production. She is responsible for managing the dispatch of plants to all large scale customers, all of the Rural Design planting jobs, and out to various landscape companies. She is kept on her toes procuring plants, with a focus on large trees, and GOLs to be potted in our nursery.
This highly varied role calls for accurate forecasting of future sales. Danielle has excellent communication with the seed collection and potting crew to ensure what is sown and grown for the upcoming season is relevant and time-sensitive too.
Prior to Rural Design, Danielle gained experience working in landscaping, predominantly in high-end residential landscapes, including hard and soft landscaping projects and ongoing maintenance. Those in contact with Danielle respect her wealth of knowledge at native plant identification and her positive and tenacious work ethic.
When not at the RD helm, she relishes the wild beauty of Aotearoa – hiking, road trips and camping with mates.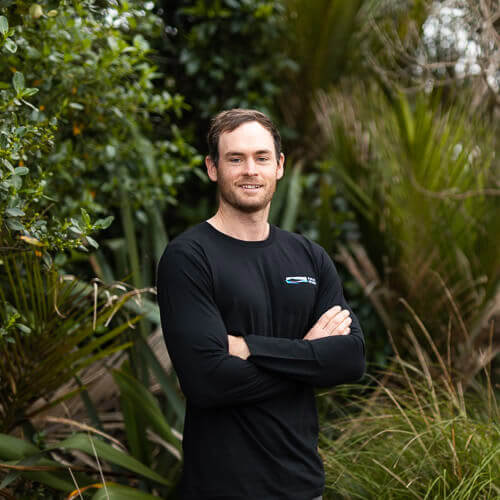 Kirk Daly
Team Leader – Property Maintenance
Kirk is the lead for all maintenance and development of both residential garden spaces and general landscaping projects. He is also responsible for adding value and creativity to any projects requiring sustainable garden design.
Before joining the team, Kirk has worked on multiple jobs geared towards the eradication and control of invasive pests and plants on Great Barrier Island. His knowledge is a strong asset for Rural Design's clients, and he leads his team with ease.
Plant and lawn care is a continuous focus for Kirk, and he is genuinely passionate about making a difference to overall plant health.
Achieving 'work, life, balance' is watching the mighty Warriors, fishing, diving and campervan trips with his partner.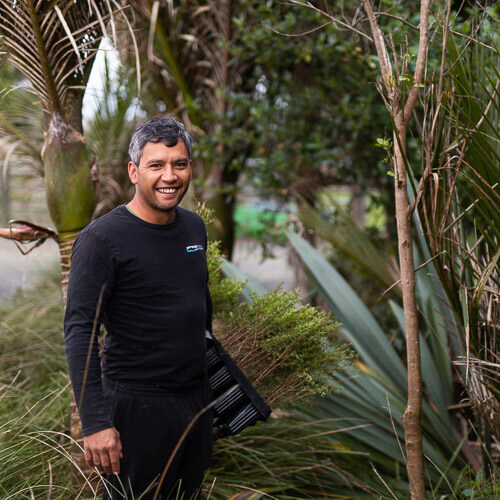 Jason Dick
Tara Iti Manager
Working on one of Rural Design's most significant projects, Tara Iti, Jason's role is to lead the team of workers on plant implementation and weed control at this coveted Golf Club and resort. Before joining Rural Design in 2015, Jason gained experience in the forestry industry and was also a fine-dining chef.
Jason brings many capabilities to this role, including motivating and managing the Tara Iti team. On a daily basis he is responsible for juggling the workflow and all of the time-critical deadlines that come with seasonal planting and weed eradication.
When not at work, Jason continues to enjoy the outdoors with fishing, surfing and skating all favourite pastimes.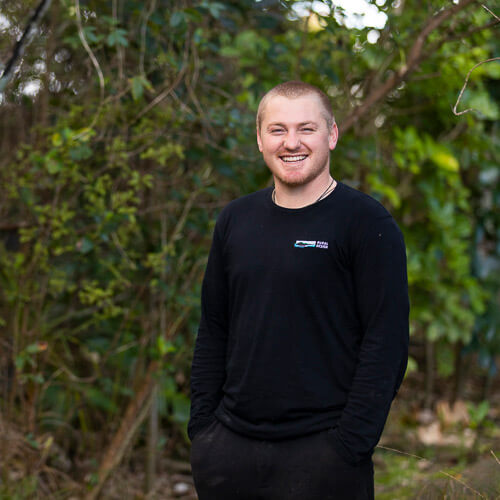 Jack Warden
Senior Ecologist and Restoration Manager
In early 2018, Jack joined Rural Design as the Senior Ecologist and Restoration Manager where his primary role is to work alongside industry leaders to co-ordinate ecological assessment and large scale restoration projects for both public and private sectors.
With a degree in Applied Science specialising in Biodiversity Management, Jack has forged a career in arboricultural planning, restoration ecology and botany. As a skilled botanist on the committee of the Auckland Botanical Society, he has a special interest in invasive, offshore island and threatened species and his findings are frequently published.
Jack's life-long passion for the natural environment and restoring land can be attributed to his upbringing on Great Barrier Island. He has a keen interest in the principles of kaitiakitanga and the protection of native flora and fauna. Bringing years of experience in plant identification, he also works closely with the nursery team to ensure accurate identification and quality seed collection.
The perfect day off for Jack involves the ocean, with surfing and fishing on repeat!
Lance Nepia
Nursery Manager
Lance is thriving in a career change from Chef to Nursery Manager! However, the same calm head he brought to a decade in the kitchen, is now applied to leading a dynamic team. Management of this busy division requires ongoing training and staying abreast of health & safety regulations.
Strong communication is a requirement in his role, and Lance believes that leading by example, having empathy and recognising people's different skills, is the right approach to getting the best performance from all.
Outside of work, Lance is found chilling with whānau, playing rugby for the mighty Otamatea Hawks or on the Kaipara catching a few snapper.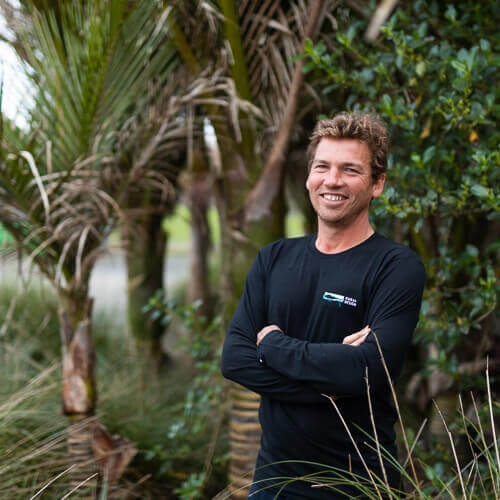 Ben Peake
Foreman
Ben brings excellent communication and an even temperament to his role as a foreman for Rural Design. Along with a cool and calm demeanour at work, he has also achieved his National Certificate in Horticulture, Level 4 Advanced Amenity Horticulture.
He describes his day to day output as 'creating forests' and enjoys any opportunity to incorporate sustainable streetscape work into a project. Before joining Rural Design, Ben spent 12 years maintaining Council gardens.
The team appreciates his excellent communication skills and dedication to every project. When not at the Rural Design helm, Ben is found fishing or working on his "life sentence" (lifestyle) block!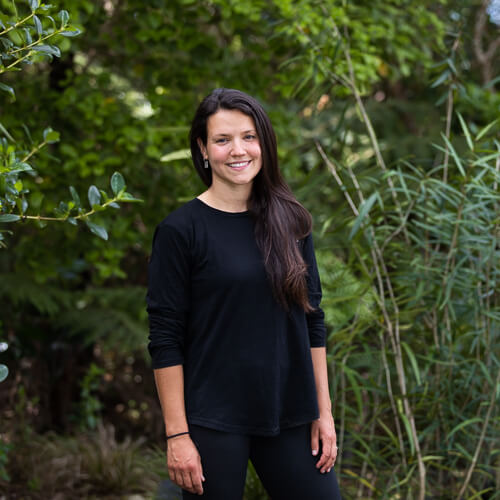 Elizabeth Fortin-Gaudreault
SEED COLLECTION & PROPOGATION MANAGER
Elizabeth (Liz) to her friends and comrades arrived at rural Design in 2017. Liz has travelled extensively and brings a world of life experience to her role. This includes working in the criminology field in her homeland Canada. She is known for her strong work ethic and leadership within the Nursery Division.
Since her introduction to native plants, Liz has developed a passion for how they grow and where they come from, helping to spearhead Rural Design's efforts to accurately source, locate and record where seed is coming from. Liz works closely with Lance, Dani and the Ecology division to ensure the seed is correctly identified and that seed quantities are meeting the demands required for Rural Design's planting projects and that of other large implementation companies.
Liz's role is to collect seed according to the natural cycle of each native plant that is propagated from seed. This can be tricky at times as certain species can have no seed in a calendar year or ripen early or late due to New Zealand's erratic climate patterns. Liz also assists in the selection of cutting species and where to find them.
Outside of work Liz enjoys time at the beach and exploring new parts of New Zealand with her young family.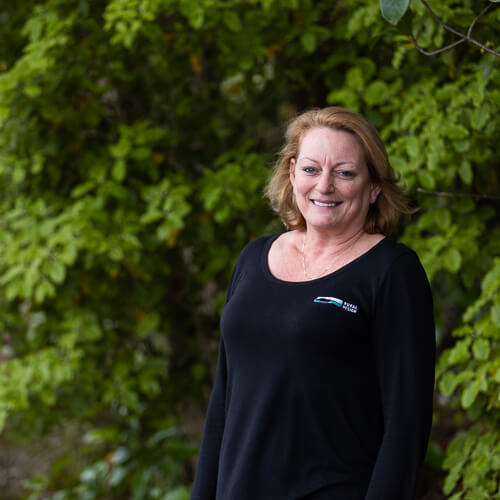 Tess Tollemache
Administrator
Tess arrived at Rural Design at a crucial time earlier this year, where the administration team needed assistance dealing with a growing company. Despite COVID hitting straight after she arrived, she toiled through. She is now a valued member of Rural Design, dealing with Health and Safety, procurement, invoicing and utilising her excellent people skills and communication in dealing with HR issues.
Tess brings a wealth of experience to her position and along with Marilyn is the fulcrum of communication within Rural Design.
In her spare time Tess loves catching up with friends, whipping up something delicious in the kitchen, or popping out on the boat with her husband Darren.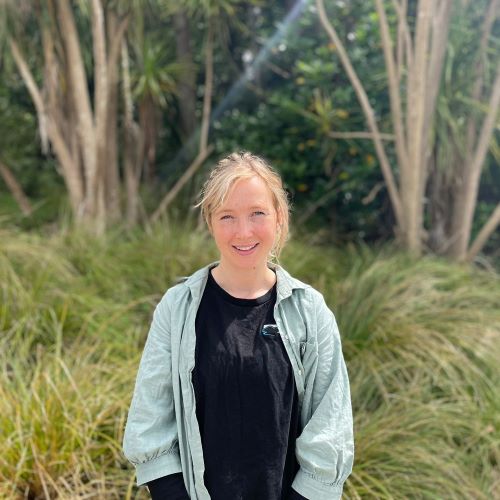 Christine Evans
Ecologist
Christine has recently joined Rural Design's Ecology team as a Junior Ecologist. Christine is originally from Australia and has ten year's of experience studying the behavioural ecology of Australian and New Zealand birds. She completed a Bachelor of Science (1st class honours) majoring in Ecology, Behaviour and Evolution and a PhD (Behavioural Ecology) on female bird song at Flinders University in Australia in 2017. She then came to New Zealand to study New Zealand bellbirds at Massey University in 2018. Ever since, she's been in awe of the diverse landscapes and lush green forests New Zealand is famous for. Christine has worked on several ecological projects in New Zealand, including exploring possible neighbourhood song dialects of bellbirds/korimako on Tiritiri Matangi Island, examining the effects of translocations on song culture in North Island saddlebacks/tīeke, and understanding habitat use of banded rail/moho pererū in mangroves. In her spare time, she volunteers at Wenderholm Regional Park managing a trap line.
Christine has previously worked as an Ecologist in academic and consultancy roles and is now stoked to be part of the Rural Design team. She brings with her a passion for bird ecology and experience in ecological monitoring, data collection and analysis as well as scientific writing. Christine looks forward to settling into her new role and supporting the work of Senior Ecologists, Maddy and Jack. She hopes to broaden her knowledge on the unique ecosystems in the Auckland and Northland regions and provide valuable ecological advice for clients as well as protecting and enhancing the ecological integrity of our environment.
When she's not out in the bush observing birds, she can be found at the beach seeking surf or sipping on a craft beer.
Amber Doggett
plant husbandry
Amber has been at Rural Design since early 2021 and is passionate about ensuring all of the plants we grow at our nursery are healthy and happy before they head out to our Clients.
Ambers role at Rural Design is Plant Husbandry – an important role to have! Amber ensures that the plants are healthy and that all essential processes are put in place to make a native plant ready to fulfill its role in the native landscape of Aotearoa. This includes biosecurity, plant health monitoring and pest control. 
Amber spends her days casting an ever attentive eye over our rakau and she has recently taken on a lead role in getting Rural Design up to speed with NZPPI's new biosecurity accreditation Plant Pass.
Amber studied a Bachelor of Agriculture, with a focus on plant and animal sciences. After graduating Amber's career verged into the Horticulture industry.  Amber spent time working with houseplants and outdoor flowering plants before moving to natives, giving her a comprehensive knowledge of wide variety of plants and their needs. 
Outside of work Amber enjoys spending time with her family and pets at her lifestyle block in Ruawai. 
Kyle Sutherland
junior ecologist
Kyle is the newest addition to Rural Design's Ecology team and brings with him 10 years of experience studying avifauna around the world. His primary role is working alongside fellow Ecologists Christine and Jack to conduct ecological assessments and prepare ecological reports for a broad range of restoration, conservation and land development projects within the private and public sectors.
Kyle completed his Honours Bachelor of Science at the University of Guelph, Canada majoring in Environmental Sciences and started working on conservation projects in diverse ecosystems across North America – from the rich, boreal forests of Northern Ontario to the dry, arid beauty of the Mojave Desert. Kyle has also worked on several projects across Australasia, including behavioral studies on Western Australia's red-winged fairy wren, exploring the joint-nesting behaviour of Pukeko, and understanding habitat use of banded rail/moho pererū. Most recently, Kyle completed his Masters of Science (with distinction) at Massey University in 2021, where he studied the effects of translocations on the cultural evolution of the North Island saddleback/tīeke.
Working for Rural Design has allowed Kyle to fulfil his passion of conservation by working to protect and enhance the ecological integrity of Aotearoa's natural ecosystems. Kyle is enjoying applying his experience in ecological monitoring, data collection and scientific writing, whilst continuing to learn about New Zealand's unique ancient flora and fauna. After working in Canada, the USA, South Korea and Australia, Kyle has finally decided to call New Zealand his new home and is loving integrating into the kiwi lifestyle which complements his own so very much.
In his off-time, Kyle enjoys playing all sorts of sports including boxing, American football and surfing. When his body can't keep up with him, you can find him attempting to homebrew various ales and ciders.